Contest! Win Dominex "The Eggplant People" Coupons!
UPDATE: Can't wait to see if you won to try these products? Email
sales@dominexeggplant.com
and say in the subject line "The lazy vegetarian sent me here." Include your mailing address, and they will mail you a $1.50 off coupon for Dominex products.
I had the opportunity to try new products from Dominex "The Eggplant People". And they have generously given me coupons to give away to my readers.
2 people will win 2 coupons each. Each coupon is for a FREE product. The coupons do not have a price limit, nor do they have an expiration date. (My store sold the products for about $5 each, so that would make the value of each prize around $10.) If you are the selected winner, I will request your address and mail the coupons to you. No catches!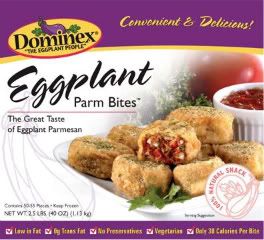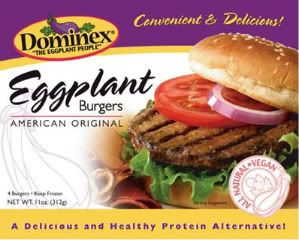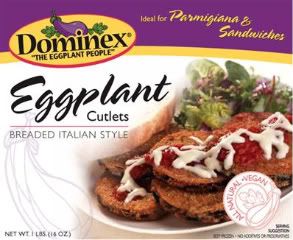 We tried both the meatballs and the eggplant cutlets.
The meatballs were an excellent texture, stayed together well when heated, and tasted quite good. There is definitely an eggplant flavor to them, but that was a plus as far as I was concerned. 5 meatballs (1/3 of the package) have 90 calories and 9 grams protein, so a healthy addition to a pasta dinner. I also had the third serving as a meatball sub, which was yummy!
I served the cutlets as a main dish with baked potatoes topped with broccoli. My husband said he would of preferred them as eggplant Parmesan. He also felt the breading was a little thick, although I liked it. We both liked the taste, and felt they made a quick dinner if you don't have the time to slice and cook eggplant yourself. The cutlet box says it includes 5 servings at 100 calories each, but I would say it is more like 3 servings if served as a main dish.
Rules for contest entry:
(1) You may enter 1 time per household. If you are a minor, be sure to check with a parent or guardian first.
(2) To enter leave a comment on this post. The comment needs to answer the two following questions:
What store in your area carries Dominex products? Visit Dominex, click on retail locations, and check your state. I ask this because I want to make sure that the winner will be able to use the coupons.
How do you define your diet? (Vegan, vegetarian, pescatarian, flexitarian, omnivore, etc.)

(3) If you don't have a blogger account with an email address link, be sure to leave your email in the comment so I can contact you if you are a winner.
(4) Entries will be accepted through midnight 10/31/2009.
(5) 2 winners will be selected from all correct entries. Winners will be contacted by email and given 72 hours to respond with a mailing address. If the first selected winners do not respond in that time, alternative winners will be picked.
Good luck, everyone!