January Contest - Kenzoil Olive Oil
I had the opportunity* to sample Kenzoil - a delicious new seasoned olive oil. It's a combination of extra virgin olive oil, fresh basil, garlic, and spices. It can be used on salads, pasta, vegetables, bread, and much more! Kenzoil is vegan, low sodium, natural, gluten-free, sugar-free, and preservative-free.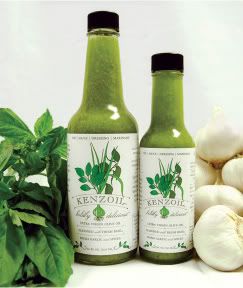 Kenzoil can be purchased at Whole Foods Market in the Midwest (Michigan, Indiana, Illinois, Wisconsin, Minnesota, Missouri and Nebraska), plus some additional stores in Michigan. It can also be purchased online direct from their
website
.
1 person will win 2 large bottles of Kenzoil (10 oz each) - a $14 value! If you are the selected winner, I will request your address, which I will forward to the company, and then they will ship you the bottles. No catches (no spam)!
Rules for contest entry:
US and Canada Addresses Only!!
(1) You may enter 1 time per household. If you are a minor, be sure to check with a parent or guardian first.
(2) To enter leave a comment on this post. The comment needs to answer the two following questions:
#1 - Stop by their website, check out the
recipes
, and tell me which recipe you would try first.
#2 - Tell which of the following age ranges you fall into:
18 or under
19 - 25
26 - 40
41 - 59
60+
(3) If you don't have a blogger account with an email address link, be sure to leave your email in the comment so I can contact you if you are a winner. Don't forget this step; I've had winners before that I am unable to contact, so someone else wins instead!
(4) Entries will be accepted through midnight 1/31/2010.
(5) 1 winner will be selected at random from all eligible entries. Winner will be contacted by email and given 72 hours to respond with a mailing address. If the first selected winner does not respond in that time, an alternative winner will be picked.
Good luck, everyone!
* I was sent a free small bottle to try by the company.